Course details
【Total day OK】 "2 hours" ★ With pot with pot 130 kinds of all you can eat and drink ★ 3480 yen (excluding tax) ♪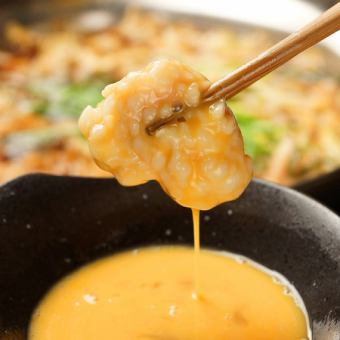 By using a coupon3480 yen
One person / tax excluded
All-you-can-drink available

All-you-can-drink all-you-can-eat (30 minutes before LO) ※ Replacement for drinks is a glass replacement.(We will exchange the glass after drinking) ※ Please refrain from drinking.If you have severe drinking, you may get a different fee.※ For more than 10 people, we will prepare glasses and drinks in advance so that we can have a casual drink.
Available days for reservation

Monday - Sunday - Public holidays - Holidays
All-you-can-eat menu with premium menu !! All you can eat with all the dishes you took time to spare, using carefully selected ingredients! Everything you can eat! We have plenty of desserts for the next ♪ I like it without worrying about surroundings You can enjoy as much as you want!
Course menu
【Relish】
Edamame / tomato slice / biscuit cucumber / takowabi / cold guy / kimchi / pickles platter / beef sting ponzu
(【菜】
Caesar salad / pork shabu salad
【Baking】
Pork belly grated Ponzu / Chijimi / Asparagus Bacon / Stir-fried Pork Kimchi / Yuzu of Chicken Thighfish Pepper Pepper Grilled
Potato sauce steak / mixed pizza
[Raising]
Fried potato / Deep-fried chicken / Deep-fried cartilage / Addictive chicken chicken spicy chili
Mentaiko cheese potato mochi / Deep fried sweet corn / fried chicken deep-fried / crab cream croquette
【Goods】
Grilled chicken fillet of black pepper / grilled octopus / burnt dumplings / plenty of meat juice Small dragon wrapper / chicken fillet stick / pig pea roast
【fish】
Hockey / Sashimi
【Food / noodles】
Source yakisoba / mentaiko pasta / rice balls / Ochazuke (plum / salmon / mentaiko / stiffness) / golden fried rice
【甘】
Strawberry Milk Ice / Vanilla Ice / Warabime Mochi / Matcha Ice
↓ "The premium menu below as well as all you can eat ★" ↓
Chanja / Mentaiko Salt of sweet shrimp Yukke / Seafood Yukke
Salmon carpaccio / seafood carpaccio / seafood salad
Dried overnight / Mini croquet of Omar bisque
Beef steak / spilled rice ball specialty rice ball / rich smooth pudding
Custard Printing Tart
【pot】
Salted pot / Sukiyaki wind pot
【Pot Ingredients】 Upper Tachan / Chicken / Pork
All-you-can-drink menu
·beer
· Barley (barreled) mug / pitcher
·Sake
· White Fawle Dry (cold · 燗) small · large
· Shochu
· Potato shochu / wheat distilled spirit / oolong high
· Shochu high
· Lemon / lime / calpis / yuzu
·whisky
· Square bottle (rock · water split · cola split) / angular high ball / angular ginger high ball / angular cola high ball
Akadama
· Red ball punch
·wine
· Glass wine (red · white)
·Plum wine
· Kishu Minami Takashi plum wine (rock · water split · hot water split · soda cracker)
·Cocktail
· Gin tonic / Jimbac / Orange Blossom / Moscow / Vodka Tonic / Screwdriver / Cassis Orange / Cassis Soda / Cassis Grapefruit / Cassis Oolong / Fazy Navel / Peach Grapefruit / Peach Oolong
·Cocktail
· Mango Orange / Mango Grapefruit / Mango Ginger / Lychee Orange / Lychee Grapefruit / Lychetonic
·Soft drink
· Oolong tea / Orange juice / Gingerjar / Calpis / Pepsi cola / Grapefruit juice
· ★ additional premium all-you-can-drink beer ★
· Suntory The Premium Malts
· ★ Additional premium all-you-can-drink ★ Premium Chuhai
· Clearly tomato sour / dry sour / salty plum sour
· ★ add premium all-you-can-drink ★ whiskey
· Jim Beam High Ball / Jim Beam Ginger / Jim Beam Cola / Chita Wind Scented High Ball
· ★ Additional premium all-you-can-drink ★ Highball
· Jim beam / Chita (rock · water split · cola split)
· ★ Additional premium all-you-can-drink ★ Shochu
· Wanko (barley) / Nanko (sweet potato) / Kozue Tan (Shiso) / Black Kirishima (potato) / Futunoba mountain (potato) / Chubu (wheat) (rock · water split · hot water split)
· ★ Additional premium all-you-can-drink ★ Umeshu
· Okinawa made brown sugar plum wine / Yuzu plum wine from Tokushima (rock · water split · hot water split · soda cracker)
· ★ Additional premium all-you-can-drink ★ Sake · local sake
· Nada brewing / Shiraka special net American Yamada Nishiki / Festival (with arrival)
· ★ Additional premium all-you-can-drink ★ All-free
· All-free (non alcohol beer taste beverage)
Coupons that can be used with this course
2018/12/27 update