Course details
【Total day OK】 ★ 2 hours 100 items eat all you can drink ★ 2980 yen (excluding tax) ♪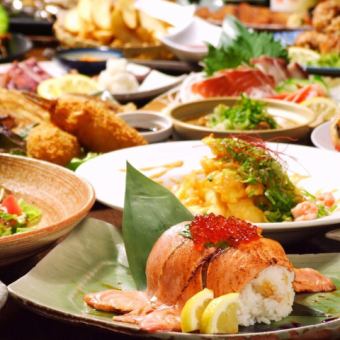 By using a coupon2980 yen
One person / tax excluded
All-you-can-drink available

All-you-can-drink all-you-can-eat (30 minutes before LO) ※ Replacement for drinks is a glass replacement.(We will exchange the glass after drinking) ※ Please refrain from drinking.If you have severe drinking, you may get a different fee.※ For more than 10 people, we will prepare glasses and drinks in advance so that we can have a casual drink.
Available days for reservation

Monday - Sunday - Public holidays - Holidays
Weekend-only bonus plan ♪ Using carefully selected ingredients, all-day dishes boasted of all-you-can-eat dishes are all you can eat! There are plenty of desserts for the next ♪ Because they are all private seats, do not mind being surrounded You can enjoy whatever you like as much as you want!
Course menu
【Relish】
Edamame / tomato slice / biscuit cucumber / takowabi / cold guy / kimchi / pickles platter / beef sting ponzu
(【菜】
Caesar salad / pork shabu salad
【Baking】
Pork belly grated Ponzu / Chijimi / Asparagus Bacon / Stir-fried Pork Kimchi / Yuzu of Chicken Thighfish Pepper Pepper Grilled
Potato sauce steak / mixed pizza
[Raising]
Fried potato / Deep-fried chicken / Deep-fried cartilage / Addictive chicken chicken spicy chili
Mentaiko cheese potato mochi / Deep fried sweet corn / fried chicken deep-fried / crab cream croquette
【Goods】
Grilled chicken fillet of black pepper / grilled octopus / burnt dumplings / plenty of meat juice Small dragon wrapper / chicken fillet stick / pig pea roast
【fish】
Hockey / Sashimi
【Food / noodles】
Source yakisoba / mentaiko pasta / rice balls / Ochazuke (plum / salmon / mentaiko / stiffness) / golden fried rice
【甘】
Strawberry Milk Ice / Vanilla Ice / Warabime Mochi / Matcha Ice
↓ "The menu below is all you can eat at + 500 yen ★" ↓
Chanja / Mentaiko Salt of sweet shrimp Yukke / Seafood Yukke
Salmon carpaccio / seafood carpaccio / seafood salad
Dried overnight / Mini croquet of Omar bisque
Beef steak / spilled rice ball specialty rice ball / rich smooth pudding
Custard Printing Tart
【pot】
Salted pot / Sukiyaki wind pot
【Pot Ingredients】 Upper Tachan / Chicken / Pork
All-you-can-drink menu
·beer
· Barley (barreled) mug / pitcher
·Sake
· White Fawle Dry (cold · 燗) small · large
· Shochu
· Potato shochu / wheat distilled spirit / oolong high
· Shochu high
· Lemon / lime / calpis / yuzu
·whisky
· Square bottle (rock · water split · cola split) / angular high ball / angular ginger high ball / angular cola high ball
Akadama
· Red ball punch
·wine
· Glass wine (red · white)
·Plum wine
· Kishu Minami Takashi plum wine (rock · water split · hot water split · soda cracker)
·Cocktail
· Gin tonic / Jimbac / Orange Blossom / Moscow / Vodka Tonic / Screwdriver / Cassis Orange / Cassis Soda / Cassis Grapefruit / Cassis Oolong / Fazy Navel / Peach Grapefruit / Peach Oolong
·Cocktail
· Mango Orange / Mango Grapefruit / Mango Ginger / Lychee Orange / Lychee Grapefruit / Lychetonic
·Soft drink
· Oolong tea / Orange juice / Gingerjar / Calpis / Pepsi cola / Grapefruit juice
· ★ additional premium all-you-can-drink beer ★
· Suntory The Premium Malts
· ★ Additional premium all-you-can-drink ★ Premium Chuhai
· Clearly tomato sour / dry sour / salty plum sour
· ★ add premium all-you-can-drink ★ whiskey
· Jim Beam High Ball / Jim Beam Ginger / Jim Beam Cola / Chita Wind Scented High Ball
· ★ Additional premium all-you-can-drink ★ Highball
· Jim beam / Chita (rock · water split · cola split)
· ★ Additional premium all-you-can-drink ★ Shochu
· Wanko (barley) / Nanko (sweet potato) / Kozue Tan (Shiso) / Black Kirishima (potato) / Futunoba mountain (potato) / Chubu (wheat) (rock · water split · hot water split)
· ★ Additional premium all-you-can-drink ★ Umeshu
· Okinawa made brown sugar plum wine / Yuzu plum wine from Tokushima (rock · water split · hot water split · soda cracker)
· ★ Additional premium all-you-can-drink ★ Sake · local sake
· Nada brewing / Shiraka special net American Yamada Nishiki / Festival (with arrival)
· ★ Additional premium all-you-can-drink ★ All-free
· All-free (non alcohol beer taste beverage)
Coupons that can be used with this course
2018/12/27 update